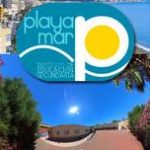 By
Alfonso@Playamar
On Tuesday, 26.03 2019, Second day of C5 Meeting from 9:30-10:00 , we have several videoconferences with the technical aid of ECIE and in colaboration with Edifinet Team.
This videoconference about " Educational Financial Activities in Spain. Case of success: EduFInet " was imparted by José Manuel Domínguez Martínez.
PhD José Manuel Domínguez Martinez in one of the most preminent econmist in Andalucia and Professor of Public Finances of the University of Malaga.
He has been a member of the Board of Directors of the Organization of Economists of Education, Member of the Commission on Teaching Innovation at the Andalusian University and Member of the Administrative Board of the School Superior of Studies of business (ESESA) and President of the   International Financial Analysts  organisation (AFI).
He has already support our project as Director of the financial education project "Edufinet" .
He is also General Director of the General Technical Secretariat of Unicaja Bank  and President of Analysts of Andalusia.
Author of several books and  numerous articles on various aspects of the economy of the public sector and of the financial system.
From this lines we would like to thank PhD José Manuel Domínguez for this interesting Conference.

1520total visits,2visits today