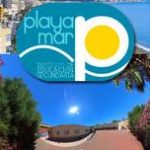 By
Alfonso@Playamar
On Tuesday, 26.03 2019, Second day of C5 Meeting from 10:00 to 10:30 , we recibed a very interesting conference via videoconferences with the technical aid of ECIE and in colaboration with Edifinet Team.
This videoconference about " Banking versus non-bank financing" was imparted by José María López Jiménez
This Activity was part of  A15: Debate: "Banking versus non-bank financing" Planned Debate. 
He shared with DTSE Students and Teachers, it's experience in Banking versus non-bank financing estrategies.
José María López Jiménez in a very important economist in Spain. Doctor and Graduate  in Law from the University of Malaga.  Diploma in Political Science and Sociology by the UNED (Political Science Section).
Director of social corporative responsibility department in Unicaja Banco, is  and author of several books,articles and chapters in collective works on aspects of the  related to the financial system, such as the  means of payment, fraud with cards, the  preferential shares, the floor clause or the corporate governance of banking entities, between  other matters.
He is a member of the Council of  Administration of Economic Analysts of  Andalusia, and is part of the work team of the  financial education project "Edufinet".
From this lines we would like to thank Prof José María López Jiménez for this interesting Conference.