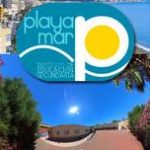 By
Alfonso@Playamar
DESIGN THINKING: SOCIAL ENTREPRENEURSHIP BETWEEN EUROPEAN SCHOOLS
In order to realize the following PRIORITIES
HORIZONTAL: achievement of high quality skills and competences.
HORIZONTAL: open and innovative practices in the digital age.
HORIZONTAL: sustainable investment, performance and efficiency.
Aware that the promotion of entrepreneurial and innovative spirit among young people are two key objectives of public policies at European level to achieve inclusive growth, and the importance that these objectives have for the economic and social development of the regions, as a fundamental element for:
– the promotion of innovation,
– support for competitiveness,
– to maintain social cohesion.
The Istituto "G.A. Pischedda", Bosa, after inserting the activities of the Erasmus KA2 project "Designthinking" in the "Education Activities/Training Plan", has realized, from October 2017 until May 2018, the following activities:

789total visits,1visits today